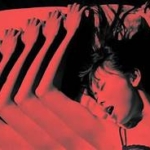 During a presentation a woman asked me about achieving multiple orgasms. Often, when it comes to the topic of orgasms, women just want to experience an orgasm. So I took some time to think about creating multiple orgasms. While the path to pleasure might be similar to orgasm attainment, multiple orgasms go beyond the release of sexual tension. Multiple orgasms mean sustained sexual pleasure. 
The achievement of orgasm requires that we take the path of least resistance. Remove the things that inhibit freedom of sexual responsiveness. Guilt. Shame. Anxiety. Ignorance. One needs to open as many gateways to pleasure as conceivable.  Tap into your fantasies. Use your favorite accessories. Name your pleasure. It just might be watching someone else get off on screen or in real life.  A little mouth and hand action can have a big impact.  Sex after orgasm is one of my personal favorites. 
Whatever you desire, make sure to add some variety to mix things up. Use your favorite toy. Tune into what excites you. Let your senses be the guide. Use this information to stimulate the mind and body. In and out. Create the setting. Change the mood. Relax. Get to know what excites you. Welcome it. Indulge in it. Then, share it so that your partner can also give you pleasure.  Multiple Orgasms!!!!