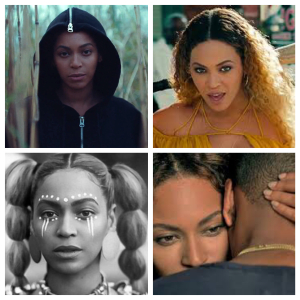 On Saturday April 23, 2016 Beyoncé released a visual album on HBO entitled Lemonade. On the surface it appears to be a documentary of sadness and hope associated with being betrayed by her husband Jay Z.  However, a closer look reveals that she is singing about more then infidelity and recovery. She is addressing the historical and cultural plight of Black women. She further emphasizes the point by solely using African American girls and women in the video. Beyoncé eloquently weaves themes of oppression, sexism, abuse, devaluation, and colorism into this musical masterpiece.
Intuition:
The short film opens with images of women reminiscent of the days of slavery. Slavery stands out as a central time in history for the mistreat and out right abuses of African American women. Beyoncé states,   "Unknown women wonder the hallways at night".  This is a statement about infidelity and maybe a reference to the many different women paraded through Masters house for personal consumption. Unfortunately, the devaluation of African American women has been a long standing consistent cultural norm. It is a curse that has been passed down from generation to generation. "The past and the future merge to meet us here". Here at a time and place where women continue to be devalued and degraded. Betrayed.
Beyoncé is on bended knee, dressed in all black, as she prays. This scene give way to her in a field of weeds in a black hoodie.  The hoodie is likely in deference to Trayvon Martin. The black hoodie has become a universal symbol of loss and unjust treatment. Black is also a common color of grief.  The field of weeds suggests that she is lost. The first track is Pray You Catch Me. She is listening trying to find conformation of her suspicions of betrayal.  She is full of sadness.The images in the movie suggests that her sadness yields to hopelessness. Her pain is deep. It manifests in fantasies of death. Infidelity brings about a metaphorical death for some and a literal death for others. There is the death of hopes and dreams, the death of the ideal partner, and sometimes the death of the marriage itself.
Denial. This is often the fist stage of grief.  Beyoncé stands atop a building and plunges to what should have been her death.  But what appears to be the deep waters of her soul.  There is conflict between knowing and not knowing. She attempts to change who she is to satisfy his desires. As she literally drowns in her sorrow, she makes every attempt to repress her awareness. She prays, fasts, abstains, self-mutilates. However the question remained. "Are you cheating on me"?
The Black woman's value manifests in her physicality.  "I closed my mouth more, tried to be softer, prettier, less awake". . She is to be seen and not heard. The loud mouth angry woman is a characterization of Black women that has been perpetuated in popular culture. Our nations First Lady, Michelle Obama, has been marked by this stroke of bias as society continually attempts to thwart the progress of African American women. Society attempts to turn a death ear to her demands to be heard.  She will no longer be silenced by your prejudice and abuse. She will not be denied.
Stepping out in her yellow dress, Beyoncé is no longer drowning in her tears. Now she walks on water and finds her way out of the weeds. Unfortunately, the reality is a sad one.  The "love of her life" has been unfaithful. She is full of anger.  Hold up. Is she using a bat to destroy cars in her path; a bat that she takes from a boy?  She castrates him as she openly expresses her anger.  Beyoncé has not fully stepped out of her denial. She seems full of glee as she destroys his ride.  She was once his ride or die chick; the Bonnie to his Clyde, but the anger of betrayal has created a woman who vacillates between jealous and crazy. Denial allows her to ride on a high as she destroys the things that he values and rides off in a monster truck.
Anger. Beyoncé is marching forward. Black women are marching forward. Yet they are tied down by societies images of beauty. Must she change the color of her skin and the texture of her hair to be accepted? She questions her value. Must I be someone else to please you?  Someone without flaws. She mocks him. "You and your perfect girl". She is angry! Anger tends to be the emotional defense against sadness.
Beyoncé speaks of the challenges of finding love and staying connected. She feels invisible and wonders,  "Why cant you see me"? This is the plight of the Black woman. She has to fight for acknowledgment of strengths that extend far beyond her ability to meet mans sexual needs. In, Don't Hurt Yourself,  Malcolm X is quoted, "The most disrespected person in America is the Black woman; The most unprotected person in America is the Black woman. The most neglected person in the world is the Black woman".  She unequivocally speaks of her value ,"When you hurt me, you hurt yourself".  The society is weakened by the negation of African American females. Jay Z is weakened by her absence.  Beyoncé threatens to leave if this mistreatment persists. "If you try this shit again, you gone lose your wife". 
Apathy Beyoncé speaks of the death brought on by her broken heart.  She gets personal with Jay Z as she shows an image that represents him in a hat with his head lowered.  She speaks of being taken for granted with her "most bomb pussy", This faceless man could be Master or any other male. She  gives the deuces to a male dominated society that dares to hold Black women down. "Boy bye".
Now she is ready to put to rest the pain and sorrow of his betrayal. "Ashes to ashes. Dust to side chicks". As most women know the best way to survive the pain of heartbreak is with the love and support of your girls. Beyoncé surrounds herself with women covered in tribal writings as they take a party bus riding along side her on this journey of apathy.  The women are all marked with tribal painting. This tradition has several meanings. Tribal painting is used for various rituals and may be considered festive. It represents beauty. It connects a group of people. It serves as camouflage in times of battles. Perhaps it serves all of these purposes for her.  Undeniably it is another reference to our ancestry.
A consistent theme in the short film is Master's house- the home of the slave owner. The house slave and field slave, as represented by Beyoncé and Serena respectively, have infiltrated the big house in all their glory. They dispel the myths surrounding female sexuality. As Serena Williams (this big black woman)  unapologetically oozes sexuality.
The female field slaves were often dark in complexion, large in stature and more suitable for outside work.  The female house slave was often light in complexion, considered more attractive, and more suitable for inside work. Her inside work often included meeting the sexual needs of her slave master. This discriminatory behavior likely laid the foundation for colorism which has had a seminal influence on dynamics within the African American community.
Perhaps, "He better call Becky with the good hair" is another reference to colorism. It sits in contrast to the image of Beyoncé with the braided crown. Colorism has created a racial divide within the African American community that manifests as higher value being placed on light skinned Blacks over dark skinned Blacks.  This conflict is particularly visible in media and is captured in the dichotomy between the asexual images of mammy and the whorish images of the vixen or THOT (modern day Jezebel). She gives both stereotypes the middle figure without regret in Sorry.
Emptiness. Beyoncé has been stripped bare. She is vulnerable. She is contemplating leaving. "She sleeps all day" –  a common symptom of depression and another stage of grief.  She discusses the use of sex to defend against grief, which only deepens the loss.  "Grief sedated by orgasm, orgasm heightened by grief".  People don't stop loving each other just because of an affair.
Beyoncé speaks of the tradition of blaming women for the lack of control that men exercise. "Dear Moon, we blame you for floods. For the flush of blood from men who are also wolves. We blame you for the night, for the dark, for the ghosts". This denial of responsibility has lead to sexual violence perpetuated against women.
Minister Louis Farrakhan, of the Nation of Islam, openly talks about the nature of man.  He suggests that since the male body is designed to respond to the woman, she need to cover, so as not to tempt him.  Men have so many important things to do that they cant bother with exercising self-control. This line of thought is perpetuated by a society that labels woman as seductive, manipulative, and dangerous.
In 6 Inch Beyoncé honors Black female sexuality.  Using a clever pun, "She murdered everybody and I was her witness",  Beyoncé refers to the stereotypes about the ominous Black woman and simultaneously acknowledges that she is killing it as a professional, income earner, lover, and world traveler.  She is entitled to her value.  "She's worth every dollar and she's worth every minute".  She dispels, "every fear, every nightmare". We are not to be feared but valued for all that we are and do. Through imagery she is burning down the house of her previous Master and with it all of his prejudices and biases against her.
Accountability The role of the mother-daughter relationship on the development of self-image is undeniable. Mother serves as a constant model for the young girl.  The question that remains is how has the historical treatment of women by men affected their development of self worth? Beyoncé focuses on "husbands and fathers" in Daddy Lessons. What lessons have fathers taught their little girls? A father is responsible for encouraging a girl's attempt at femininity. He responds by setting the appropriate boundaries so that she can remain safe, as well as by offering reinforcement in terms of appropriate displays of affection. These early interactions are then integrated into her core feminine ideal. Furthermore, the presence of another parent reduces the level stress in the household.  Thus creating an opportunity for more consistent messages around sexuality.
As it pertains to the relationship between Beyoncé and Jay Z, her father was vocal about his disapproval of their relationship.  "My daddy warned me about men like you, He said baby girl he playing you".
As it pertains to our ancestry and the seminal impact on the treatment of  African American women, Beyoncé ponders, "Did he bend your reflection? Did he make you forget your own name? Did he convince you he was a God? Did you get on your knees daily? Do his eyes close like doors? Are you a slave…"?
Reformation  It is time to wake up and open your eyes to the reality of loss. She is not just talking about her personal losses but the losses of the  African American community.  She introduces the injustices perpetrated against young Black men and references the devastation of a Black community with images of the Stadium where people sought refuge after Hurricane Katrina.
Beyoncé acknowledges the challenges of reconciliation. She is struggling to gain trust and forgive.  One thing that has not been lost is her love for Jay Z. She states, "You are the love of my life". She must make herself aware.  Awaken to her love for him and the pain he has caused. She must die and be reborn. Reformation requires grieving. She walks in water. However, this time it is for a cleaning, a rebirth. They have been existing in a Love Drought. Her love has just been "floating in the air".  She is in a tug of war with her self.  She has to decide between stagnation or moving forward, between drowning or building mountains. She speaks to the profound nature of healing and recovery.  To all Black women out there, it is time to move on, time to break the curse, and rebuild.
Forgiveness. There is a rebirth of Beyoncé and the Black women. It is time to heal. "If we're going to heal, let it be glorious. One thousand girls raise their arms". Sandcastles is symbolic of all that the couple built that has been washed away by their hostility towards each other. His betrayal is met with her anger. Jay Z too has shed tears.  She says, "Show me your scares and I won't walk away." There are images that speak to her attempts at walking away.  The removal of her IV tattoo from her ring finger leaves a visible scar. It is a prominent image as she caresses the back of his neck. Yet her love remains. It is so honest and true. There are scenes of them together lovingly moving forward together.  All is not lost, although she promised that she could not stay.  "Every promise don't work out that way".
Resurrection. "So how are we suppose to lead our children into the future?" Love. It is what will also move her forward. Beyoncé puts the past away. She welcomes Jay Z, "go back to sleep in you favorite spot just next to me". Forward.
Beyoncé showcases women who are also grieving. Women who join her in the struggle of grief. They hold pictures of the Black boys and men they have lost.  Most recently, Trayvon Martin and Michael Brown have died in the war against Black men. Their mothers are present to represent that Black Lives Matter.
Hope. There is hope for the future. It comes with a raging storm.   Beyoncé stands on the front line and fights the battle for Freedom. There will be light.  She will dance. She will "wade through water".  She is going to "march on the regular" and "break chains".  Women will be free of the chains of oppression. "I'mma keep running cause a winner don't quit on themselves". She will not be shacked by society or by the pain that her relationship has created. Freedom.
Redemption. Starts with the recipe for lemonade. A recipe that can be  passed down from generation to generation. A recipe that teaches a lesson of recovery and hope. It will pass from grandmothers to mothers to daughters. She states, "My grandma said 'Nothing real can be threatened' ".
Beyoncé will one day be a grandmother who passes on lessons.  She anticipates passing down  her own unique recipe for ecstasy. True love is her pain and panacea. "With every tear came redemption".  Her tears of grief provide a pathway to healing. She also speaks to his (the Black man and Jay Z's)  ability to facilitate her growth. He is magical again. He has the ability to heal her instead of deceive her. He can make her insecurities invisible.  They will love openly for the world to see. But the world will be absent to them. They will again make sweet love All Night long.
No one is immune to the realities of infidelity. The plight and pain of recovery is a universal one. To that end, she displays images of all types of couples and families: gay and straight, black and white, young and aged.
The visual album ends with the audio from Formation. While it was the first track released during Super Bowl 50, it is the closing track on her Lemonade album. She challenges the medias portrayal of her and sets the record straight. She is possessive, sometimes she goes off, she works hard, she slays, she dreams, she twirls all her haters, she has hots sauce in her bag swag.
Beyoncé is a multidimensional woman.  Like other African American females she is angry, loud, sexual, round, freaky and dark. But she is also happy, quite, all natural, contemporary, conservative, and light. These are the qualities that make her human and just like everyone else. Any Black woman who is willing to work hard is capable of fulfilling her desires. She just might be a "Black Bill Gates in the making".   "I just might be a Black Bill Gates in the making". She leaves every woman with an invaluable message,  "Always stay gracious, your best revenge is your paper".